Semana de oro para Cencosud: logra concretar su expansión a Estados Unidos a poco de la luz verde en Sao Paulo
El acuerdo se concretó con recursos propios y créditos por US$ 150 millones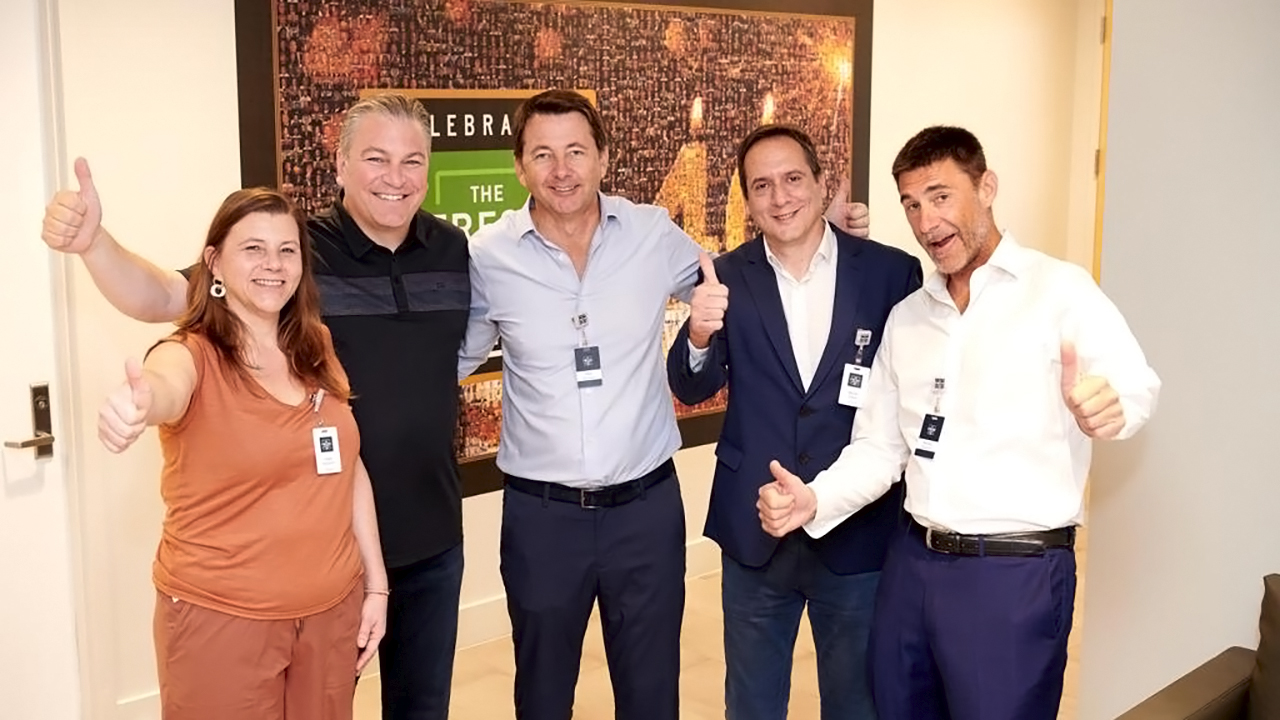 La sonrisa de los hermanos Paulmann -hijos del fundador de Cencosud, Horst Paulmann y que ahora están a cargo del holding- lo dice todo. Y es que ha sido una semana de oro, ya que a la reciente luz verde del regulador económico brasileño para que el retailer adquiriera la totalidad de GIGA Brasil, concretando así su llegada a Sao Paulo, el sueño familiar se cumplió: ahora suma a Estados Unidos en su portafolio.
Lea también: La era Heike: Cencosud aterrizará en Estados Unidos al acordar el 67% de The Fresh Market por US$ 676 millones
El pasado 10 de mayo anunciaron un acuerdo con The Fresh Market Holdings para adquirir un 67% de dicha compañía. A través de un hecho esencial a la Comisión para el Mercado Financiero (CMF), el CEO de Cencosud, Matías Videla, informó que "con fecha de hoy, habiéndose cumplido las condiciones contempladas en dicho acuerdo, y específicamente la obtención de la autorización de la autoridad de Libre Competencia de los Estados Unidos de América, Cencosud S.A., a través de su filial Cencosud Internacional SpA, ha adquirido el 67% de la propiedad accionaria de TFMH".
El acuerdo se concretó "mayoritariamente con recursos propios y con el producto de contratos de crédito con Bank of America y con The Hong Kong and Shanghai Banking Corporation Limited, Singapore Branch ("HSBC"), por US$ 150 millones de los Estados Unidos de América, cada uno, ambos por un plazo de 12 meses", indica el documento.
"The Fresh Market, Inc. ha obtenido un crédito por $597 millones de dólares, a 5 años plazo, con la garantía de Cencosud S.A, el que fue otorgado por un sindicato de bancos liderado por JPMorgan Chase Bank, N.A. y cuyo producto será íntegramente destinado a refinanciar la deuda actual de The Fresh Market. Inc", agrega.
Así, Cencosud comenzará a operar en 22 Estados de Estados Unidos, principalmente Florida, Carolina del Norte (donde se ubica su Matriz), Virginia y Georgia, a través de 160 tiendas arrendadas.
La empresa norteamericana tiene aproximadamente 10.159 colaboradores, y su venta bruta anual supera los US$1.900 millones.
"Se espera que esta adquisición tenga un efecto favorable en los resultados consolidados de Cencosud S.A., aprovechando las sinergias naturales que existirán con esta nueva filial que trae como beneficios la estabilidad de la moneda del país en que opera, su mercado de capitales de gran profundidad, y acceso a un mercado con un mayor poder adquisitivo, entre otros, sin que a esta fecha se puedan cuantificar con precisión estos efectos", dice Videla.
Además: Quiñenco, AntarChile, BCI, SQM y Cencosud: las chilenas dentro de la última Global Forbes 2000